Beyond the Brand with Hurtig Lane
What comes to mind when you think of Spain? While sun-kissed historical cities and world-renowned beaches might definitely make the list, there's another side to the country you might not be as familiar with: Its rising status as the European hub for slow, ethical fashion.
Spain has, in fact, become the home base for countless innovative fashion brands in recent years, aiming to break out of the fast-fashion mold in favour of kinder and more sustainable alternatives, ethically manufactured in Spanish or Portuguese factories and made from eco-friendly and vegan-friendly materials.
One of the latest featured sellers to come on board, Hurtig Lane, exemplifies this trend perfectly: Based in the creative hotspot of Barcelona, this vegan watch brand has perfected the art of crafting sustainable and ethical products throughout the entire manufacturing process, from design drafts to production.
Born in 2016 and out of outrage for the cruelty of the mainstream leather industry, the minds behind Hurtig Lane, Cerian and Michael, have since put their passion for animal welfare and environmental protection to good use — resulting in leather-free and eco-conscious vegan watches that feel just as timeless as the traditional accessories they're aiming to promote an alternative for.
So, what's behind their mission and what are the new directions the brand is taking to develop their unique product offer even further?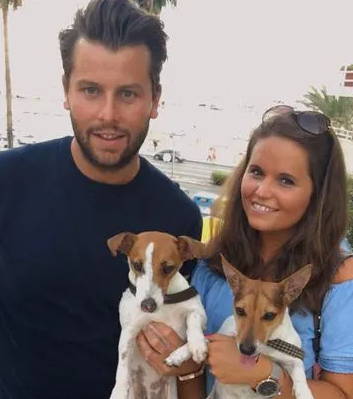 Cerian and Michael, founders of Hurtig Lane, with their two doggies Poppy & Messy
When fashion and ethics go hand-in-hand
It's been a tough year for all of us, and small independent brands have unfortunately felt the financial hit of the pandemic more than any other type of business.
Yet, against all odds, Hurtig Lane has managed to rise above all challenges and turn the setbacks into opportunities, using the year to participate in several charitable initiatives aimed to support animal welfare and international development. Throughout 2020, the brand has joined a local cat feeding program to support the welfare of stray colonies, dedicated a jewelry collection to our precious bees to support the Bumblebee Conservation Trust, and donated to Fesbal (Spanish Food Bank) to help provide families in need with the food items they need.
The team's passion for making a tangible difference with their actions means that when conscious consumers choose to shop vegan watches, accessories, and vegan beauty products on Hurtig Lane, you'll know that you'll be helping to support causes that truly matter — all while supporting the vision of a fashion and beauty industry completely free of animal exploitation.
The past year has also seen Hurtig Lane expanding its collection of vegan watches by introducing the Neliö Square range, a glamorous and effortlessly elegant collection of square watch designs, featuring the brand's classic leather-free cotton woven fibre straps and available in 16 trendsetting colour combinations..
In addition to the new stylish range, Hurtig Lane has also expanded its product offerings to include a brand-new collection of cruelty-free beauty products and accessories, including sustainable wood and bamboo makeup brushes (made with sustainable vegan fibres) and a mineral-rich, natural, and regenerating cruelty-free Australian pink clay mask.

With each and every single one of these products, the brand's M.O. has always remained cohesive and true to the team's core mission: To provide durable and fashionable vegan accessories, only using the most sustainable materials and employing the most ethical manufacturing procedures through every stage of the production process.
For a long time, vegan-friendly and environmentally sustainable products have been a synonym for boring designs, cheap plastic-laden materials, and uninspired collections.
When browsing through the extensive vegan watch and accessories range that Hurtig Lane has to offer, it only takes a second to realise just how far the vegan fashion industry has come: The brand's designs are always creative yet timeless in their tasteful construction, endlessly versatile, and innovative in the use of sustainable and long-lasting materials, such as the inclusion of PU in their leather-free straps.
The passion behind the brand is tangible, and it bleeds through every new product launched and every initiative joined.
We can't wait to see what the team will think of next and we are proud to be able to call them a part of Vegana Marketplace's family!
Trendy vegan watches straight to your door
Featuring classy minimalistic designs, durable materials, breathable and sustainable PU watch straps, and a whole lot of heart through every step of the manufacturing process, this brand's vegan accessories have everything you could ever ask for in an ethical fashion business.
If the future of fashion is vegan and sustainable, this independent brand is certainly leading the charge into a brave new world — and you don't want to miss out on the zeitgeist.
If Hurtig Lane's beautiful vegan watches have been sitting on your wish list for a while, the brand's inspiring story and unshakable ethics might push you to finally click the checkout button!